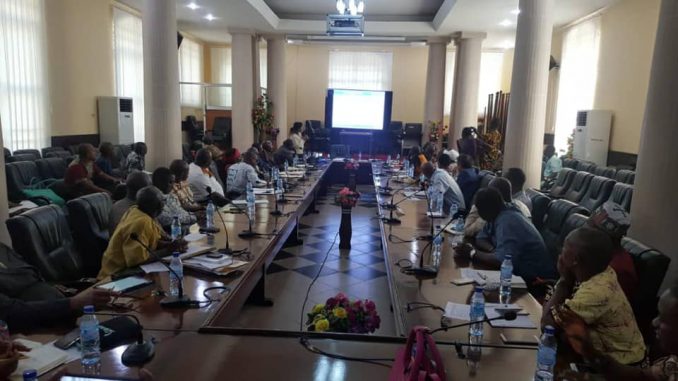 (Freetown, 20 January 2020) The Rapid Assessment Mission for the United Nations Legal Identity Agenda (UN LIA) from the United Nations Economic Commission for Africa (UNECA) has commended the National Civil Registration Authority (NCRA) for its commitment to Civil Registration, Vital Statistics (CRVS) and Identity Management.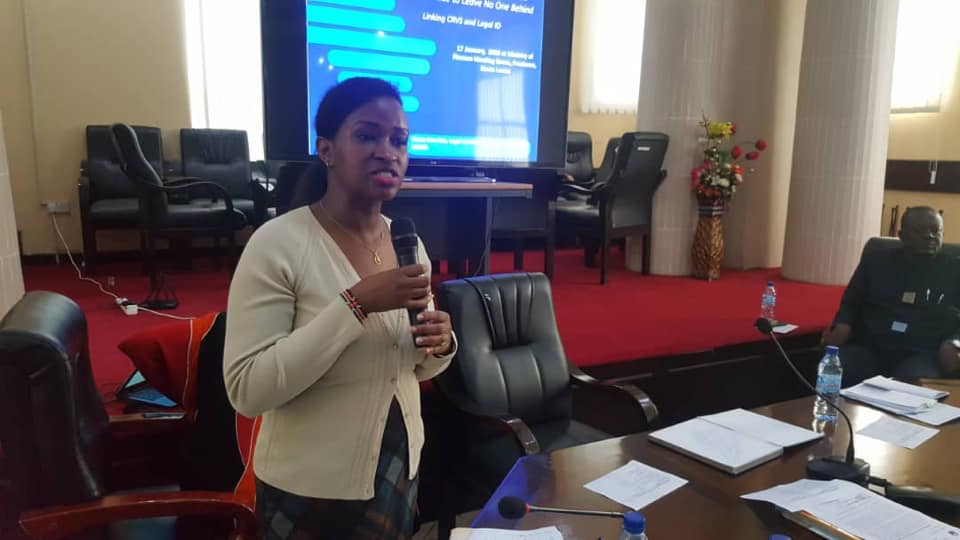 The team was in Sierra Leone from 13 to 17 January to share information with NCRA on how CRVS and ID Management are going on in Sierra Leone. The meeting was held at the Conference Room of the Ministry of Finance.
The key objective of the UN LIA is to ensure a comprehensive, harmonised and coordinated approach of all United Nations Agencies and programmes, as well as the World Bank Group in providing advice and support to Member States in the development of a holistic, an interoperable and a sustainable civil registration, vital statistics and identity management systems. The benchmark goal of UN LIA is to close the global identity gap by 300 million by 2025.
Welcoming UNECA and UN Country Team, Development Partners, Civil Society Organizations (CSO) and the media on behalf of the Government of Sierra Leone, the Director-General of NCRA, Mohamed Mubashir Massaquoi, expressed thanks to the UN Team.
Mr. Massaquoi gave a brief background of how Sierra Leone was selected for the Rapid Assessment and talked about the various meetings that the NCRA and Development Partners had had with the UN LIA Rapid Assessment team since they arrived in Sierra Leone.
He informed the participants about the Government of Sierra Leone's commitment to make CRVS and ID Management succeed in Sierra Leone.
"We are a family. CRVS and ID Management in Sierra Leone are under the auspices of a team that is committed to it, and we make sure that we are doing in line with international best practices" he reported.
Head of the UN delegation and Statistician at UNECA, in Addis Ababa, Ethiopia, Fatoumata Sissoko, said that they were very impressed with the commitment of NCRA to ensure that CRVS and ID Management record all vital events in Sierra Leone-from birth to death, as well as registering migration.
She gave a background of the UN LIA. She said it advocates for a global life cycle model of legal identity " from birth to death," and was introduced in 2019 to address the challenges faced by Member States to achieve the Sustainable Development Goals (SDGs) in particular goal 16.9 (Legal Identity for All), to guarantee legal identity for all by 2030.
Madam Sissoko informed participants that in order to implement the UN LIA, from October 17 to 18, 2019, the Fifth Conference of African Ministers responsible for Civil Registration and Vital Statistics met in Lusaka, Zambia where they made a recommendation to encourage all countries of Africa to ensure its implementation. She said that the African Ministers at that conference agreed that a person's identity must begin at birth and be maintained throughout the life cycle, from birth to death.
She added that the Ministers also emphasised that birth registration and birth certificates are means of protecting children's rights and access to social services such as health, education, employment and the eligibility to vote as soon as they reach the required age, as well as emphasising that a comprehensive approach to legal identity requires interoperability among civil registration, vital statistics and national identification systems that are linked to a unique identification number assigned at birth and used throughout the life of an individual.
Madam Sissoko further added that Sierra Leone was chosen among nine pilot countries in Africa to implement the UN LIA with a Task Force and the countries selected to jointly identify gaps/areas requiring support to ensure a comprehensive, holistic and coordinated civil registration, vital statistics and identity management system of legal identity for all, including jointly developing a strategy paper and work plan for each country and contribute towards its implementation.
"Through UN LIA initiative, the UN shall support Member States to ensure that the legal framework, technical expertise, and technology infrastructure are in place to ensure that all vital events are recorded and there is a permanent population and voter register," she informed.
Making a PowerPoint presentation on the observation of how CRVS and ID Management was going on in Sierra Leone, the Legal Identity Management Specialist at UNECA, Violet Kinuthia, said that Sierra Leone has made tremendous progress after the establishment of the NCRA.
She said that Sierra Leone has an exceptional integrated CRVS and ID Management system. She confirmed that Sierra Leone has made lots of effort to increase and sustain birth and death registration, institutionalised capacity building, and that it also has strong support from the UN Country Team and other Development Partners.
Madam Kinuthia and colleague recommended that the policy of NCRA must have a harmonised legal framework to support the process, a vital statistics system that will come from a civil register, availability of registration materials to be ensured and to go according to the priorities of the Strategic Plan.
The UNECA UN LIA Team also recommended the need to have a sustainable advocacy and communication strategy, a resource mobilization drive and expressed hope that the Government of Sierra Leone will give technical support that will ensure a credible database that is reliable for voting, national planning and population census.
They stressed that CRVS and ID Management must be continuous, universal and done in an inclusive manner by registering all births, deaths and causes of deaths, as well as registering all other vital events such as adoptions, marriages, nullities, separation and divorces.
The UNECA Legal Identity Agenda Rapid Assessment Team said that Sierra Leone will gain from the UN LIA by helping to strengthen its human rights and governance, development planning and in decision-making.
Representatives from the UN Country Team in Sierra Leone were present, including the African Development Bank (AFDB), NASSIT, NEC, Statistics Sierra Leone (SSL), Ministry of Health and Sanitation (MOHS), Political Parties Registration Commission (PPRC), National Revenue Authority, Sierra Leone Police (SLP), Office of National Security (ONS), Plan International, Sierra Leone Chamber of Commerce and the media.