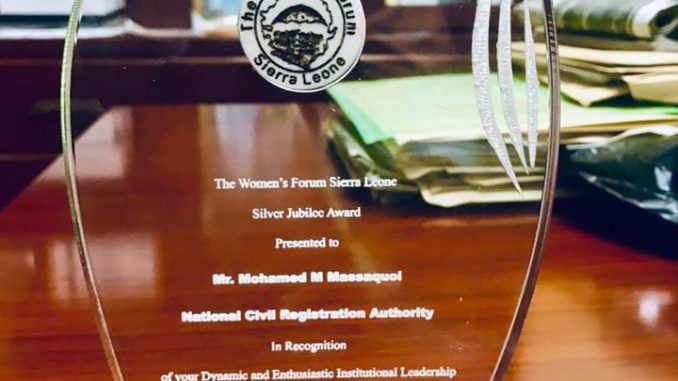 (Freetown, 13th January 2020) The Women's Forum Sierra Leone has on Monday 13th January, 2020 presented a Silver Jubilee award to the Director General of the National Civil Registration Authority (NCRA) Mohamed Mubashir Massaquoi in recognition of his dynamic and enthusiastic leadership role at the Authority.
The presentation was done in the presence of the UN Legal Identity Mission team at the Authority's Headquarter office on Walpole Street, Freetown.
Presenting the award, the President of the Women's Forum Sierra Leone, Maude Peacock said that the Award did not come as a surprise, but rather because of the tireless efforts and sound leadership role that the NCRA Director-General has demonstrated so far.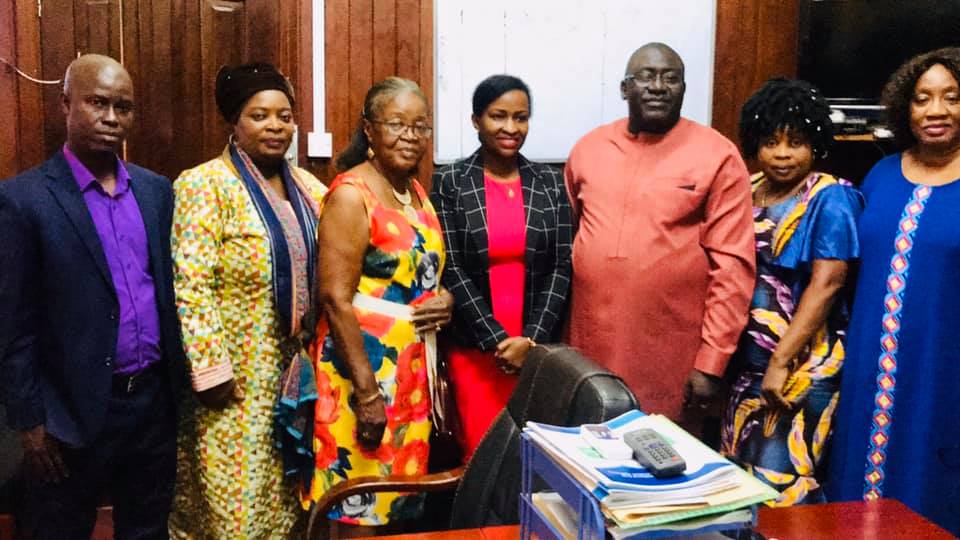 The President said that as a Forum, they have been observing the activities of NCRA and it is very apparent to the public that through the leadership of Mr. Massaquoi, the National Civil Registration Authority has been doing an excellent job. She further explained the importance of data in the development of every nation, especially Sierra Leone.
Madam Peacock said the Women's Forum has been a formidable partner of NCRA over the years as they have been participating and observing the NCRA's activities. She stated that there is much more development strides under the leadership of Mr. Massaquoi.
"It is our pleasure to present to you this award for your dynamic leadership in improving Civil Registration, Vital Statistics and Identity management in Sierra Leone. We wish your institution a prosperous 2020," the President said.
In his response, the Director General of NCRA said that he was very delighted to receive such an award from the Women's Forum Sierra Leone. He stated that the award did not come by surprise as the Forum and NCRA have been working in partnership since the establishment of the Authority. He noted that the NCRA recognizes the role of women in governance.
"On behalf of the entire NCRA Family, I want to thank the Women's Forum Sierra Leone for such an accolade," the DG said.
Mr. Massaquoi further thanked the Forum for their participation in the Comprehensive Country Assessment on CRVS and ID Management stating that it was a national assignment that the Government of Sierra Leone carried out through the guidance of UNECA. He said the recommendations of Women's Forum Sierra Leone on the issue of divorce was exceptional.
The Director General urged the team to continue the good partnership for the betterment of the people of Sierra Leone. The UN Mission team on Legal Identity present at the award ceremony congratulated the NCRA Director-General for the award. The team members, Fatouma Sissoko and Violet Kinuthia explained to the Women's Forum members that they were in Sierra Leone for a rapid assessment of the country's Civil Registration and Identity Management System and expressed delight at the recognition the Authority is receiving from the citizens.