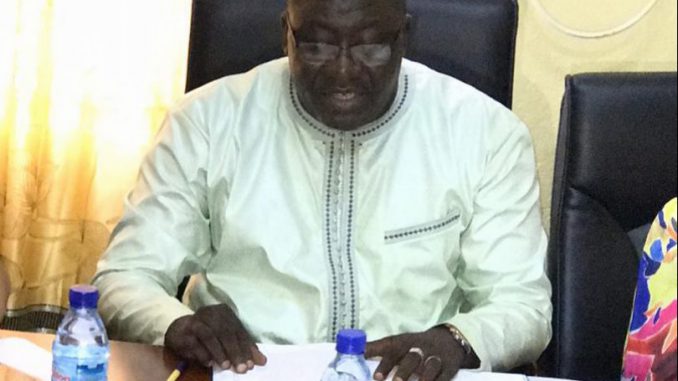 Distinguished Guests, Ladies and Gentlemen
Today, in six months' time, the National Civil Registration Authority and the United Nations Children's Fund (UNICEF) are celebrating the beginning of the realization of the commitment made by His Excellency, President Julius Maada Bio at the 74th Session of the United Nations General Assembly in September, 2019 that "Through partnerships and innovation, we have made great progress in establishing legal identity and birth registration, by strengthening our National Civil Registration and Vital Statistics Systems…… Governance, development planning, financial inclusion, and human rights imperatives, among others, guide our initiative to establish legal identity using a singular, Securitized, and serially numbered instrument. We can also use the same instrument to strengthen healthcare planning, health information systems, disease surveillance and monitor public health interventions and outcomes."
We are gathered here today to witness the handing over of a consignment of Securitized and Serially numbered Births and Deaths Certificates with unique security features guaranteeing the security of our legal identity instruments. These instruments cannot be forged. They constitute the National Identification Numbers (NIN) that are assigned to every resident in Sierra Leone (Citizens and foreign residents) and are non-duplicating, non-reusable and non-replicating. The instruments assure the easy trace of everyone's family tree from birth to death. Today's event is a testimony of the indefatigable efforts the Government of Sierra Leone through the National Civil Registration Authority and its Development Partners are making to strengthen Birth registration system, the ultimate foundation for legal identity. Another step taking by the Authority and its Partners primarily the European Union, Embassy of Ireland/ Irish Aid and the UNDP is the digitization of records of Vital Events beginning with Births and Deaths Records dating back to the 1800s so that duplication of records and their dynamism that makes them susceptible to changes as needed by people for various opportunities is halted which is a recipe for corruption, abuse, identity fraud and security threat. In the coming four months, this very important activity will be completed and the nation will witness a new dawn where electronic search, archiving and access to vital events records will be a less burden and identity fraud contained replacing manual system. This is the vision of the New Direction Government of President Julius Maada Bio.
Distinguished guests, we have been acclaimed by our International Partners notably the United Nations and the European Union that Sierra Leone's CRVS System is exceptional like in few other African countries with a System integrating CRVS and Identity Management which is clearly in line with the UN guidelines and international best practice. Our Government remains committed to strengthening our CRVS and ID Management system that follows the fundamental principles of Africa Programme on Accelerated Improvement of Civil Registration and Vital Statistics governing the CRVS reform in Africa. We recognize the immense value of a well—functioning CRVS system as a major source of continuous and reliable vital statistics and population data at national and local levels. With the availability of Birth and Death registration instruments coupled with sustained and increased awareness on the importance of Civil Registration for individuals and families, entitlements, pension benefits, inheritance among others as well as implications it has for improving access to core Government services, democratic governance, demand for these services will increase significantly.
Distinguished Ladies and Gentlemen, universal birth registration provides every child with a Birth Certificate, an essential legal document required to secure basic human rights to name, identity and nationality. Birth Certificate is the basic legal document for securing recognition of individuals before the law and safeguarding their human rights and access to basic social services. In Africa, more than half of the children are not registered at birth, which renders most of the region's poor unseen, uncounted and excluded, and by extension, affects their ability to enjoy universal human rights. A Birth Certificate, as a legal document and proof of age, helps to prevent violations of rights of a child, including child marriage, trafficking, child labour and the use of child soldiers, particularly among vulnerable and marginalized populations. Birth Certificate also facilitates access to school, health services and social protection benefits, which reduces vulnerability of children to poverty and risk of exploitation.
Legal identity is a fundamental human right, as referenced in several international human rights instruments and conventions. The right of all individuals to be recognized as a person before the law stated in Article 6 of the Universal Declaration on Human Rights. The right to be registered immediately after birth with a name and the right to acquire a nationality, pursuant to Article 7 of the Convention on the Rights of the Child, is an example of a human right that derives directly from Civil Registration. Similarly, Article 6 of the African Charter on the Rights and Welfare of the Child provides that every child must be registered at birth and has the right to a name and a nationality.
The importance of Death registration cannot be overemphasized. Death registration and issuance of Death Certificate is critical for legal administration of inherited property and social security benefits to relatives of deceased persons, cause of death information required for death registration is relevant for mortality statistics, it provides very useful information for disease surveillance and mortality trends used for health emergencies and public health interventions and service provision. Death registration provides a historical document for ancestry and lineage identification/tracing. It provides reliable and essential data for tracking health trends including demographic and socio-economic attributes. The significance of mortality data is well underlined in Sustainable Development Goals (SDGs) 1, 2, 3, 13 and 16, which require routine measurement and monitoring of mortality by cause. Death registration is important for the purpose of updating the Civil Register for improved electoral system and good governance. For Sierra Leone, our Civil registration laws (NCRA Act 2016) provide for the systematic recording and characteristics of vital events that includes births, Deaths, Causes of Deaths, Marriages, Divorces, Adoptions, Nullities etc. As a country, we can fulfil our dream of achieving Agenda 2063: "The Africa We Want", if we know who we are, where we live, work and what we need to improve our living conditions. This will therefore mean, registering every vital event and related statistics are collected, compiled, produced and disseminated in a regular and consistent manner, to guide policy and planning, inform decision making processes, and track progress to ensure transparency and mutual accountability towards achieving Africa and Sierra Leone's development agenda in particular.
While I thank the United Nations Children's Fund (UNICEF) for supporting the Government with the supply of about 1,722 Booklets of Birth Certificates, each with 100 leaves/ pages, 1,251 Booklets of Death Certificates of 100 leaves/ pages, 1,000 Booklets of Certified True Copies of Birth Certificates used for replacement of damaged, lost Certificates and 22 Booklets of Certified True Copies of Death Certificates to support Birth and Death registrational Sierra Leone, I am to state here that these supplies are not enough for our population especially when with the cooperation of the Ministry of Basic and Primary Education and the Ministry of Tertiary Education, Birth Certificate will be a key requirement for enrolment in academic Institutions in Sierra Leone beginning next academic year. I therefore call on the Ministry of Finance and our Development Partners to complement the support provided by the UNICEF for us to have adequate Birth and Death registration instruments so that stock out will be a thing of the past
In conclusion, Civil registration systems remain the ideal source of population data in view of their outstanding attributes of permanence, continuity, universality and compulsoriness as it is cost effective, reliable and sustainable. Investment in this system is both timely for the era of the 2030 Agenda and for the good governance age as prioritized by Agenda 2063- "The Africa We Want" where everyone is accounted for and visible.
I thank you all for your attention!