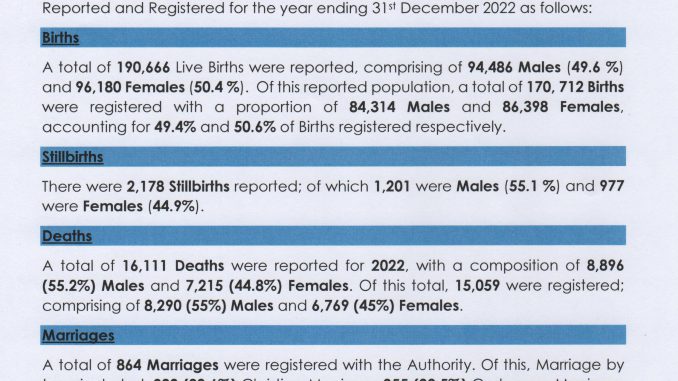 Introduction
Section 26 (1) of the National Civil Registration Act 2016, mandates and provides for the "Authority to collect, compile, abstract and publish Vital Statistics" on Vital Events covering Births, Deaths, Marriages, Divorces, Adoptions, Nullities etc. on the population of Sierra Leone.
Accordingly, the Authority announces Provisional Annual Report on Vital Events Reported and Registered for the year ending 31st December 2022 as follows:
Births
A total of 190,666 Live Births were reported, comprising of 94,486 Males (49.6 %) and 96,180 Females (50.4 %). Of this reported population, a total of 170, 712 Births were registered with a proportion of 84,314 Males and 86,398 Females, accounting for 49.4% and 50.6% of Births registered respectively.
Stillbirths
There were 2,178 Stillbirths reported; of which 1,201 were Males (55.1 %) and 977 were Females (44.9%).
Deaths
A total of 16,111 Deaths were reported for 2022, with a composition of 8,896 (55.2%) Males and 7,215 (44.8%) Females. Of this total, 15,059 were registered; comprising of 8,290 (55%) Males and 6,769 (45%) Females.
Marriages
A total of 864 Marriages were registered with the Authority. Of this, Marriage by type included; 282 (32.6%) Christian Marriage; 255 (29.5%) Customary Marriage, 167 (19.4%) Muhammadan (Islamic) Marriage and 160 (18.5%) Civil Marriage respectively.
Marriages registered disaggregated by age: 3 Males and 1 Female under 17 years; 160 Males and 37 Females from18-24 years; 201 Males and 93 Females from 25-29 years; 190 Males and 207 Females from 30 -34 years; 310 Males and 526 Females were 35 years and above.
The median age at marriage is 33 years for Males and 39 years for their Females counterparts.
Divorces
A total of 25 Divorces were registered with the Authority for the period under review. Of these, Christian Marriages accounted for 40%, Muhammadan (Islamic) Marriage – 32%, Customary Marriage –16% and Civil Marriage – 2% respectively.
Adoptions
A total of 209 Adoptions were registered accounting for 35% Males and 65% Females.
Accordingly, the data depicts that out of the total number of registered adoption cases, 80 (38.3%) were within the ages of 13-17 years, followed by 5-12 years – 75 (35.9%); 1-2 years accounted for 27 (12.9%), followed by children 3-4 years – 20 (9.6%); whilst those <1 year recorded the least with a percentage share of 3.3%.
Conclusion
In 2021, registered cases of Births and Deaths were 181,772 and 19,111 respectively. When compared to 2022 Data, there is a decrease of 6.1% of Live Births registered and 21% decrease in Deaths registered.
In 2021, registered cases of adoption were 195 compared to 209 for 2022, indicating an increase of 7.2%.
There were 821 Marriages registered in 2021 as compared to 864 in 2022.
There was a 67% increase in Divorces in 2022 as compared to 2021.
While the Authority will continue to account for Vital Events and Vital Statistics occurring in the lives of all residents (Citizens and Foreign residents) in Sierra Leone, the Authority wishes to encourage the general public to register their Vital Events with the Authority covering Births, Deaths, Marriages, Divorces, Adoptions and Nullities as and when they occur to ensure comprehensive Report and Data on the country's population.
This Provisional Annual Report covers the period January to December 31st, 2022.
For any inquiry, please do not hesitate to contact the National Civil Registration Authority (NCRA) through the Director General.
Signed:
Mohamed M. MASSAQUOI
Director General – NCRA