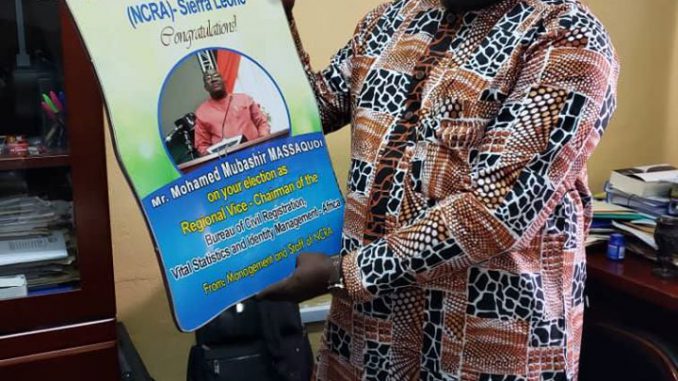 The Director-General of the National Civil Registration Authority (NCRA), Mr. Mohamed Mubashir Massaquoi has been internationally recognized by the ID4 Africa Movement for the invaluable work he is performing in Civil Registration, Vital Statistics and ID Management in Sierra Leone. Mr. Massaquoi has been appointed to the prestigious position of Ambassador of ID4 Africa Movement for Sierra Leone effective 1st January, 2020.
ID4Africa is an ID-4-All Movement founded in 2014 that accompanies African nations on their journey to develop robust and responsible ID ecosystems around digital identity in the service of development and humanitarian action. It is a tripartite organisation with representation from African Governments, International Agencies, and Industry. The aim of the Movement is to share experience and establish real-world best practices that set the correct expectations for what is involved in launching and sustaining successful identity programs.
The Movement is driven by the need to establish identity-for-all, not just as a legal right (consistent with UN SDG 16.9), but also as a practical necessity to enable inclusive access to services in Africa. ID4Africa believes that service-oriented identity ecosystems built on the respect of privacy and human rights are essential for the growth of digital economies and will become even more crucial as African countries move to implement the provisions of the African Continental Free Trade Agreement (AFCTA).
Mr. Massaquoi's appointment as an ID4Africa Ambassador is not only a testament to the excellent work he is performing at the NCRA on behalf of the Government of Sierra Leone, it is also a recognition of the significant progress that the Government of Sierra Leone, under the leadership of His Excellency, the President of Sierra Leone, Brigadier (Rtd.) Julius Maada Bio has made by adopting modern digital identity systems as drivers of socio-economic development and financial inclusion. This accolade further highlights Sierra Leone's approach to identity management as a blueprint that other African nations can learn from, validating His Excellency's vision of technology for development and positioning Sierra Leoneans to be productive citizens of the fourth industrial revolution rather than being excluded.
Mr. Massaquoi's landmark appointment caps a plethora of laudable achievements of the NCRA in recent times which includes the cleaning of the payroll of Civil and Public Servants including Subvented Agencies in order to make it transparent and accountable; utilizing its Digital Identity Management system to help pilot the Biometric Time and Attendance Reporting System of the Ministry of Finance, Accountant General's Department and the HRMO that is tied to the Payroll System to inform decisions that contains absenteeism and tardiness from work thereby increasing productivity in the Civil and Public Service.
The NCRA under Mr. Massaquoi's watch conducted the UN led Comprehensive Country Assessment on CRVS and ID Management in Sierra Leone that informed the development of its five year costed Strategic Plan (2019-2024) which won endorsement from the UN Director of Africa Center for Statistics that "Sierra Leone's CRVS and ID Management System meets the UN Guidelines and international best practice".
Most recently, the NCRA provided the technology infrastructure through which His Excellency President Julius Maada Bio launched Africa's first Blockchain National Digital Identity Platform. This Platform allows citizens to use their national identity digitally, providing approved institutions like banks and microfinance institutions with a one-time permission to look up and verify their identity digitally.
Mr. Massaquoi on commenting on this appointment stated that aided by the vision of His Excellency President Bio, the NCRA is going to continue to innovate strategies for ensuring that it helps every citizen and other residents in the country exercise their right to a nationally and international recognized identity.
It has been a year of solid achievements for the NCRA Boss. In addition to the ID4 Africa Ambassadorship, Mr. Massaquoi was in October, 2019 at the Conference of African Ministers responsible for CRVS elected Regional Vice Chairman of the Bureau of Civil Registration, Vital Statistics & Identity Management hosted at the African Union Commission and the UN Economic Commission for Africa. Mr. Massaquoi will serve as Chief Liaison between the West Africa Region and the AU/UNECA on all matters relating to the management implementation, coordination and reporting on all CRVS & ID Management programmes in West Africa. Similarly, Mr. Massaquoi will serve as Principal Liaison between all Identity Management Institutions in Sierra Leone and the ID4 Africa Movement and would lead the coordination and reporting on Identity Management Programmes in Sierra Leone in line with International guidelines and best practice. All of these Ambassador Massaquoi said are done with the committed and focused leadership of His Excellency President Bio that is guiding his work and engagement with national and international players involved in the CRVS and ID Management ecosystem that assures inclusiveness and good governance where everyone is visible and accounted for.