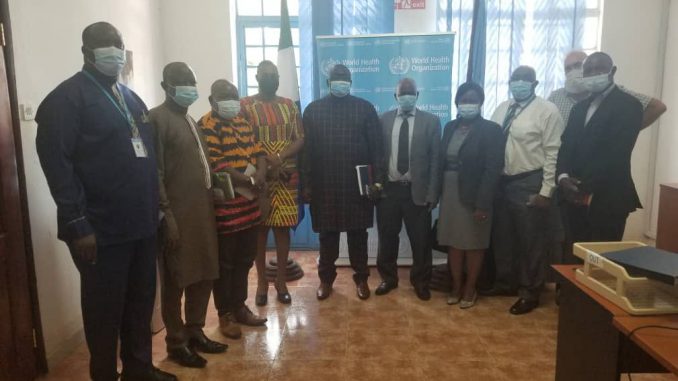 (Freetown, Tuesday 7 September 2021) – The Director-General of the National Civil Registration Authority (NCRA), Mohamed Mubashir MASSAQUOI and some senior management staff have met with the country representative of the World Health Organization (WHO), Dr. Steven V. Shongwe at the WHO's country office, Riverside Drive in Freetown.
Explaining the purpose of the meeting, the DG of NCRA said that the Authority is aware and recognizes WHO as a critical member of the global and regional groups promoting CRVS and linking the health systems of countries to the CRVS System. He therefore thought it very necessary to strengthen collaboration between the two institutions in order to support Civil Registration and Vital Statistics especially in the areas of Births and Deaths Registration including data gathering which is one of the primary areas needed to promote not only Government agenda but other development organizational interest.
Mr. MASSAQUOI also emphasized that effective collaboration between WHO and the NCRA as it has existed before will not only help the Authority in promoting births and deaths registration records but will rather provide better opportunities like technical support in terms of tools that will enhance the CRVS Systems and other health related improving systems that will positively impact the country as a whole. 
"The NCRA had written to WHO for support towards strengthening the CRVS with particular focus on support to setting up a Directorate dedicated to Vital Statistics and Research. It is expected that this will enable the Authority to meet the demand for reliable/credible vital statistics for any public administration purposes," the DG said. 
Mr. MASSAQUOI further noted that, updating the CRVS death registration system with Disease Classifiers (ICD) is very relevant to NCRA, as it will help to ease not only reporting, but will consequently enhance comparability with other countries and regions.
The DG maintained that it was strongly believed that WHO is in a better position to help promote advocacy for options for medical practitioners signing on Medical Certificate of cause of death; which is currently a challenge to death registration. Training in Verbal Autopsy is another major concern as majority of deaths occur where there are no Medical Officers to certify Deaths. He added that alternatives such as Verbal Autopsy for probable cause of death can help improve death registration.
DG MASSAQUOI indicated areas of support that is currently critical to the work of NCRA. He enlisted data analysis including Natality and Mortality estimates and the construction of life tables; International Classification of Diseases (ICD) and its related health problems for standardized reporting. Support for strengthening the compilation and management of births and deaths data at district and sub-district levels was also part of the concern expressed, especially in areas of transportation and logistics, internet connectivity and subscription as well as ICT equipment. Community engagement, communication and advocacy on CRVS was also another interested area of support.
Welcoming the NCRA DG and team, the WHO Country Representative to Sierra Leone, Dr. Steven V. Shongwe said that he was very much pleased to meet with the NCRA DG and team to discuss on issues especially births and deaths registration that are germane to the development of the country. He mentioned that WHO has been supporting and will continue to provide technical support to the programs and activities of not only NCRA but other institutions including Government line ministries especially the Ministry of health and Sanitation.
Dr. Shongwe called on his colleagues Mr. Secassi Dacmeida, who is the coordinator for health systems, Dr. Charles Njuguna, Coordinator for Health Security and Emergencies cluster and James Brown who is the team lead for component of essentials health services to throw light on some of their areas of operations. They quickly took the DG of NCRA and his team through their respective areas of clusters and how those activities are being carried out. A framework of WHO operation document was provided to the DG which will possibly guide the Authority in its collaborative effort with WHO. 
Mr. MASSAQUOI received the document and thanked the WHO Country Rep. for providing such a framework. He promised to use the framework document with his team to the best of the ability of the Authority and hope that the document will help to serve the Authority as expected.
Contributions were made affirming the need for collaboration by Grace Harman, Director of Legal Affairs and External Relations; Dr. Yambasu, Lead Consultant for Vital Statistics attached to Births and Deaths Directorate; Mr Brima Kamara, Director of Births and Deaths and Roselyn Massaquoi, Ag. Deputy Director Human Resource and Capacity building.
The WHO Country Rep. Dr. Steven V. Shongwe encouraged the DG and his team to continue such engagements which are very necessary as it will open up further discussions and opportunities that will definitely help to deepen the collaboration between NCRA and the WHO office in Sierra Leone. He however said that funding from WHO are normally catalytic as he put it, but opportunities always exist with other multinational organizations which WHO has the latitude to recommend especially in areas like CRVS and other related health systems services.
The WHO country Rep. further encouraged the DG and his team to go and indicate specific areas of support so that it will closely guide WHO in the event of any opportunity for support.
Mr. MASSAQUOI thanked the WHO Country Rep. and his team for the attention and support for a fine re-engagement between the two institutions and hope that it will continue going forward.
IEC DIRECTORATE, NCRA