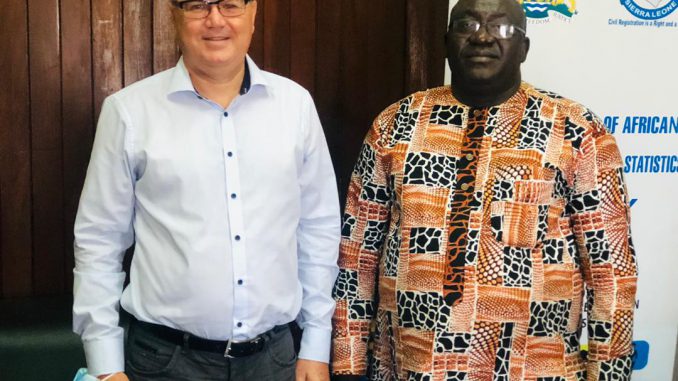 The First Secretary of the Embassy of the Republic of Germany in Accra, Ghana, Michael Grimm has today, met with the Director-General of the National Civil Registration Authority (NCRA), Mohamed Mubashir MASSAQUOI to discuss areas of collaboration and bilateral ties between his Embassy and the NCRA at the Authority's Headquarter office on Walpole Street, Freetown.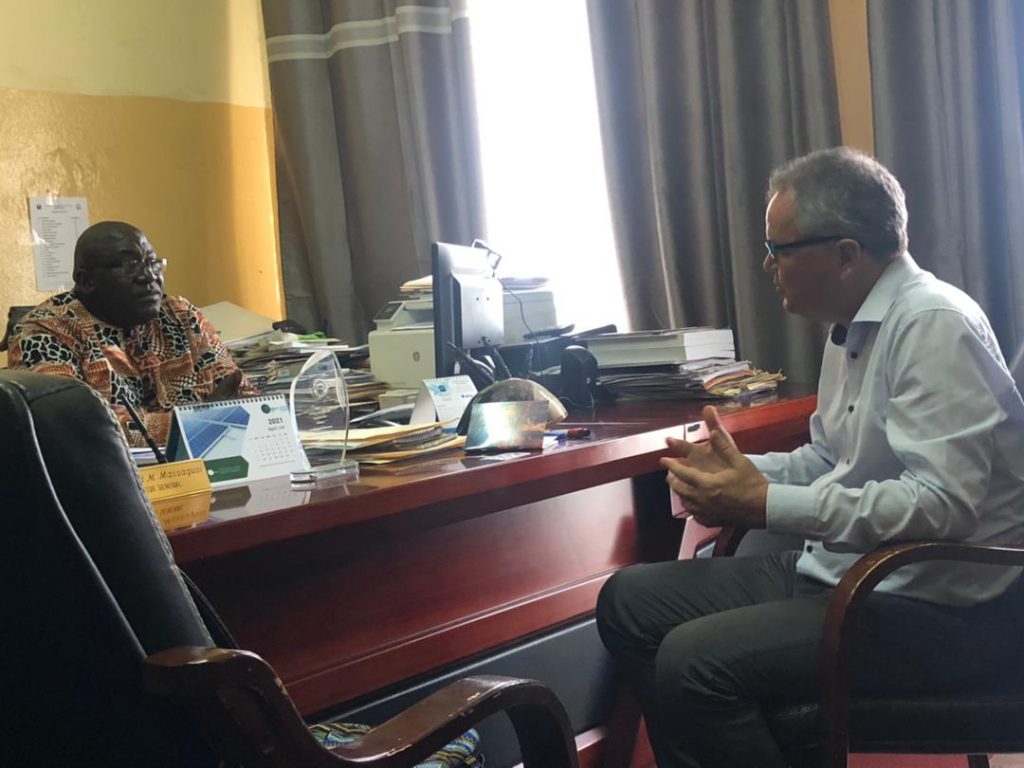 According to the Secretary of the Embassy of the Republic of Germany in Ghana, the purpose of the meeting "… is for us to see how we can collaborate with the NCRA in the area of verifying and authenticating the identity and documentations received from Sierra Leoneans seeking opportunities in Germany and Europe as a whole."
He went on to inform the DG that the need for his Embassy to work with the NCRA cannot be overemphasized. He added that the verification and authentication of the documentations of Sierra Leoneans applying for visas to visit or stay in Germany, to seek job opportunities, apply for scholarships, to visit as tourist and for medical treatment will strengthen the bilateral relations between the two countries and lend more credence to the process.
The documents that will be authenticated and verified by the NCRA include: Birth, Marriage Divorce, Adoption and Death Certificates and Identity Cards.
In his response, the Director-General of the NCRA, Mohamed Mubashir MASSAQUOI thanked Mr. Grimm for his visit and expressed his commitment to collaborate with the German Embassy for the good of Sierra Leoneans but more importantly to ensure that Legal Identity is no longer compromised, thereby restoring sanity in the Identity Eco-System.
Mr. MASSAQUOI advised the First Secretary to always submit a request for verification and authentication preferably through the Ministry of Foreign Affairs and International Cooperation for the attention of the NCRA.
He assured Mr. Grimm of his Authority's commitment to strengthening CRVS and Legal Identity in the country.
IEC Directorate, NCRA