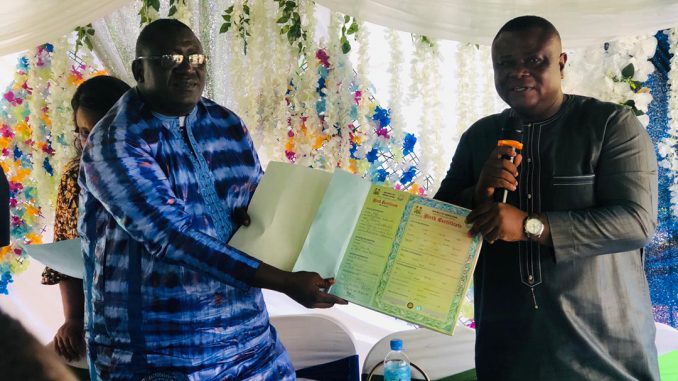 (Aberdeen Women's Center, Freetown, 28 January 2022) – With support from the Government of Sierra Leone and the United Nations Children's Fund (UNICEF), National Civil Registration Authority (NCRA) has officially launched the Securitized and Serialized Legal Identity Documents which include: Birth, Death, Marriage, Divorce and Adoption certificates at the Aberdeen Women's Centre in Freetown.
The launch is a manifestation of the Authority's effort to execute the Legal mandate of NCRA using security measures as an enabler in obtaining Births certificates as the fundamental Legal document for personal identity.
The new Legal Identity documents will adequately address the issue of identity theft or fraud in the country once and for all. This will also see a total shift in the process of issuing documents from paper to electronic base.
In her opening remarks, Madam Grace Harman, Director of External Relations and Legal Affairs of NCRA who chaired the program, said that the UN recognizes Legal Identity as a Fundamental human right that accords individuals the opportunity to enjoy other rights. She added that legal Identity is a human right issue as enshrined in numerous International Treaties and Instruments. She further stressed that legal identity is very much necessary for inclusive development and political interventions.
Registration of birth, she went on, offers the first legal document that establishes the individual's existence and nationality thereby solving the problem of statelessness.
Mrs. Harman noted that the launch of the securitized legal documents epitomizes the commitment of the Government of Sierra Leone's contribution towards the achievement of the SDGs especially SDG 16.9 which seeks to ensure that legal identity is provided for all.
In his statement, the Director-General of National Civil Registration Authority (NCRA), Mohamed Mubashir MASSAQUOI said that Civil Registration sits at the centre of what we do at NCRA with its primary purpose being the creation and Issuance of Legal Identity documents to provide proof of Legal Identity and other circumstances related to civil status that are used to establish and protect the civil and legal rights of individuals.
While making his statement, Mr. MASSAQUOI expressed delight in the achievement of such a remarkable milestone in the history of Sierra Leone under his leadership.
"Today is the beginning of a significant phase in authenticating identity details while tackling identity fraud in Sierra Leone," he said.
Mr. MASSAQUOI stated that the United Nations define Legal Identity as the basic characteristics of an individual's identity conferred through registration and the Issuance of a Certificate by an authorized civil registration authority following the occurrence of an event. Furthermore, Legal Identity and Identity Credentials are Human Right provisions as enshrined in Article 6 of the Universal Declaration on Human Rights as well as several other International Human Rights and Humanitarian Law instruments that guarantee the undeniable recognition of everyone before the law. He further noted that, Civil Registration Systems are the basic building blocks of Legal Identity ecosystems and Identity Documents for the fulfillment of fundamental human rights.
DG MASSAQUOI went on to state that the findings of the United Nations Comprehensive Country Assessment (CCA) of CRVS in Sierra Leone that was conducted in 2019, the European Union Inception Report of 2018 revealed uncoordinated civil registration and administration services with proliferation of fake Legal Identity Documents including Certificates on Births, Deaths, Marriages, Divorces, Adoption etc thus causing huge embarrassment to our legal Identity system in Sierra Leone.
Therefore, NCRA and by extension the Government of Sierra Leone, in a bid to further strengthen the Integrated Civil Registration System now introduces the use of Securitized Legal Identity Documents which will record the occurrences and characteristics of Vital Events that relate to its citizens and other residents as provided for and in accordance with the NCR Act of 2016.
"This underscores the reason we are here today to witness the official launch of the use of these Securitized Legal Identity Documents covering Birth, Death, Marriage, Divorce, nullity and Adoption Certificates as well as other Registration Instruments all intended to have a reliable and credible record on our country's population in an accountable manner. He added that it is one of the attributes of the New Direction Government of His Excellency, President Julius Maada Bio," the DG noted.
DG MASSAQUOI outlined: security; Easy search, user access control and Trust and Accountability, among others as some of the benefits the Securitized Legal Identity Documents and the supporting digital technology will provide.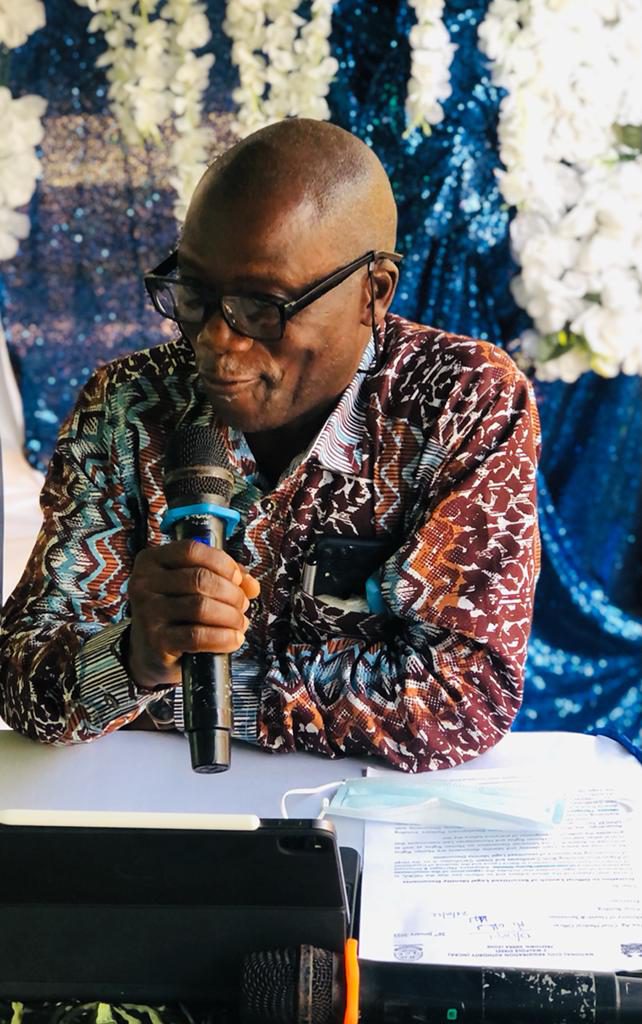 The Director of Policy, Planning and Information in the Ministry of Health and Sanitation (MOHS), Dr. Francis Smart mentioned that the Securitized Legal documents launched are critical for an effective and efficient service delivery. He added that MoHS and NCRA have a very strong relationship predicated on the principles and values of NCRA which are the registration and recording of vital statistics.
He stated that MoHS has contributed significantly and immensely towards the effort of NCRA in achieving a thorough and credible data on vital statistics in the country, especially those relating to birth and death which are recorded in the Ministry's health facilities across the country.
"Birth is a vital information and mostly occurs in health facilities," he added.
Dr. Smart went on to note that, very soon services provided by MoHS will be linked to the NCRA's National Identification Number (NIN).
The Child Protection Specialist of UNICEF, Nassal Millicent Kebbie appreciated NCRA's effort to digitize Legal documents in the country and ensuring that the documents are readily available for public consumption.
Madam Nassal stated that she was hopeful that the launch of the legal Identity documents would adequately address the gap between birth registration and certification, as according to her, the mix 2017 report provided that about 81% of children are registered in the country, but only a little few over 30% had birth certificates as proof of registration.
She said, UNICEF promotes Children's Rights and they have been working with NCRA to ensure that birth registration is integrated into the Civil Registration, Vital Statistics and Identity Management Systems.
"Birth registration is key because it is the first step to a person being identified as a human being," she noted.
UNICEF, she went on, will continue to support NCRA to ensure that all children born within the confines of Sierra Leone are timely registered and issued Birth Certificates. Madam Nassal also informed the meeting that UNICEF had supported NCRA with printed Securitized Birth and Death certificate to help salvage Identity fraud across the country. They have also supported the Authority with the development of Mobile Registration Application which will be used by all actors including health and NCRA personnel to register Birth and Death events as they occur across country.
She further noted that UNICEF continues to support NCRA develop a Birth Registration Procedure Manual which will help actors to know the processes and procedures of registering children and also build their capacity to provide the services needed across the country.
She assured the DG that UNICEF remained committed in their partnership with the Authority to ensure that there is a remarkable improvement in birth registration in Sierra Leone.
Delivering the Key note address on behalf of the Minister of Internal Affairs, the Permanent Secretary of same, Mohamed Sheik Kargbo said that Civil Registration and Identity Management are important areas in the global security domain, as secured identity management gains more significance due to perverted economic gains from identity theft and fraud.
He mentioned that in Sierra Leone, due to the prominence of the right to National Identity as enshrined in the 1991 Constitution and as a result of the strong Political and Presidential will to support Civil Registration and Identity Management Systems, the strides being made by the National Civil Registration Authority under the supervision of his Ministry have been laudable so far.
"Today, we are converged here to witness another epoch-making event in the Civil Registration and Identity Management process in Sierra Leone; an event that I will be elated and proud to include in my regular briefs to my boss, His Excellency Brig. (Rtd) Dr. Julius Maada Bio," he mentioned.
He went on to note that, it is a source of relief that Sierra Leone is joining other great nations of the world to start using Securitized Legal Identity Documents. He sternly warned those who are habitual in the falsification of Identity Documents that the features of these Securitized Legal Identity Documents are non-duplicating, non-repeatable and non-reusable and that the NCRA has included Digital Biometric Identity Management information on those documents that can detect fraud and duplication.
"While the NCRA and by extension the Government of Sierra Leone work towards putting an end to duplication of identity documents, impersonation and other issues of identity fraud, I proclaim, without any reservation that perpetrators will face the full force of the law. In the interest of the general populace of Sierra Leone, Government cannot be heading in the right direction, while a few unscrupulous persons continue take us backwards." he stated.
On behalf of the Minister, the Permanent Secretary officially launched the Securitized legal Identity documents.
Real time registration process was demonstrated at the occasion.
Present at the occasion were: representatives of Develop Partners, Civil Society Organizations (CSOs), School going pupils, health workers, Ministries Department and Agencies (MDAs), the media and cross section of senior management staff of NCRA.
©IEC Directorate, NCRA.