Wednesday, June 15, 2022.
Top executives of the National Civil Registration Authority are attending ID4Africa's first in-person meeting in Marakesh, Morocco, following the relaxation of Covid19 travel restrictions and public gathering.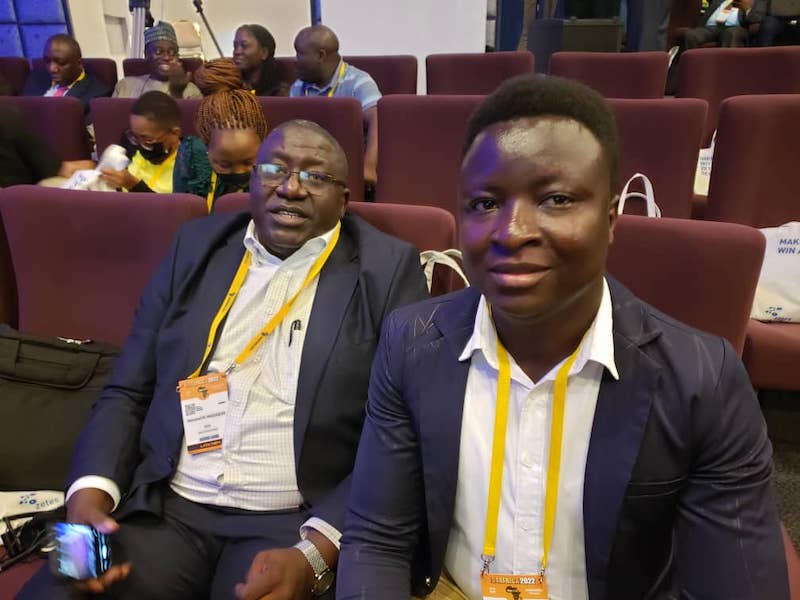 NCRA Director General, Mohamed Mubashir MASSAQUOI (left) and Senior ICT and Identity Manager, Moses Vibbie (right) sit in the first plenary session of ID4Africa at the Palais des Congrès at Mövenpick Hotel Mansour Eddahbi, Marakesh, Morocco. The ID4Africa is holding their first in-person annual meeting after the easing of global Covid19 travel restrictions and public gathering.
Mohamed Mubashir MASSAQUOI, Director General and Moses Vibbie, Senior ICT and Identity Manager together with representatives from Sierra Leone's National Revenue Authority, Bank of Sierra Leone, and the Immigration Department arrived Marakesh Monday for the June 15-16 summit which is attracting about 600 organizations and 51 African countries, many of them senior level government officials.
ID4Africa is returning to in-person meeting this week following a hiatus which limited their annual meetings to virtual summits since Covid19 global travel restrictions were enforced after the outbreak of the pandemic. ID4Africa brings together leading biometric vendors, the international development and digital ID communities, and governments from across Africa and around the world.
"Am highly impressed with the turnout of participants at this year's AGM doubling the turn out of the 2019 session before COVID 19 broke out… This means that our collective resolve to fight pandemics is successful. African Governments must account for all its citizens and other residents hence Legal Identity for All in Africa", MASSAQUOI said after the first day session.
The DG, who is also ID4Africa's Ambassador for Sierra Leone said the Palais des Congrès at Mövenpick Hotel Mansour Eddahbi occasion was an opportunity to showcase the gains Sierra Leone has made since President Bio's declaration at the 74th Session of the UN General Assembly in 2019, to support CRVS and legal identity in Sierra Leone; a commitment that is highly appreciated within the Identity System in Africa.
DG MASSAQUOI will be on a Panel of International Experts June 16TH to share ideas and experiences on how countries can attain 100% Legal Identity coverage by 2030. This is a great opportunity to have Sierra Leone featured on a high-end global event, MASSAQUOI remarked. The DG will as usual use his Diplomatic finesse to forge alliances and networks towards mobilizing resources for Sierra Leone's CRVS and Legal Identity programnes.
This is all made possible through the rapid transformation the NCRA has seen under his leadership as Director General, with unending support from the Management and entire staff of the Authority and Partners. "I am speechless, I must confess, after comparing and discussing the progress made so far by NCRA Sierra Leone, with other countries; Sierra Leone is far ahead" Vibbie said after listening to reports from other countries.
While other African countries struggle to attain between 50-60% registration coverage, Sierra Leone ranks among the few countries in Africa with the highest registration coverage – with over 85% of the population registered and all assigned the NCRA's MAGIC NUMBER called the NIN (National Identification Number). Recent parliamentary ratification has tied the access to several national services to the attainment of the NIN number provided only by the NCRA; thus, giving a boost to the country's Digital Economy and National growth through precise data on population.
"On a personal note, I feel satisfied that we are making significant progress and gains over many other nations in Africa towards meeting SDG 16.9 by putting measures, systems, policies and laws in place that precisely record the existence and characteristics of our population leading to the permanent legal exit of residents in Sierra Leone. Other countries now wish to emulate our work. Thanks to President Bio!", MASSAQUOI exclaimed.
He proudly announced at the forum, the unqualified support from President Julius Maada Bio and his Government, for all CRVS and ID Management Programnes; a support that puts Sierra Leone in the lead among other African countries working towards the integration of Civil Registration and Vital Statistics.
This year's Augmented General Meeting focuses on the Theme "Identity in Context: The Digital Transformation Journey Begins". The event will discuss Accelerating Government Service Delivery with Digital Identity, Trust for Identity Products and Services, Technology to accelerate human impact, etc – all geared towards making countries meet the UN SDG 16.9 – Legal Identity for All by 2030. It will also help countries show their population and the world that Legal Identity is high on their National Priority List.
By NCRA IEC Directorate.