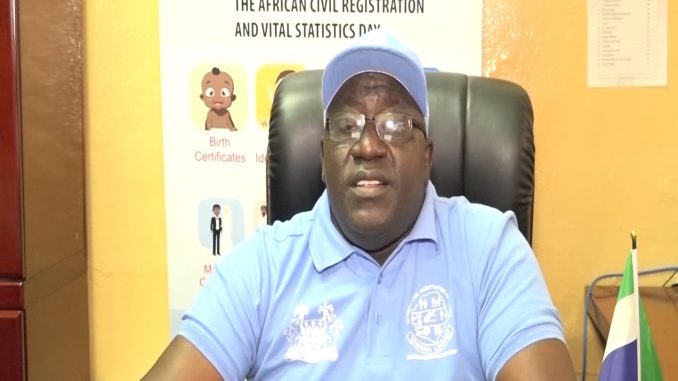 Theme: "Civil Registration and Vital Statistics: An Essential Service for
Monitoring and Mitigating the Impact of Emergencies."
Today, 10th August, 2020, Government of Sierra Leone through the National Civil Registration Authority joins other African Governments and nations to commemorate the 3rd Africa Civil Registration and Vital Statistics Day in Africa. This day was set aside by African Governments through the African Union to reflect on the importance of CRVS in administrative, legal and statistical data for good governance and population matters. Unfortunately, Sierra Leone like the world over, commemorates this day amidst restrictions on public activities dictated by the COVID-19 pandemic.
The UN defines Civil Registration as 'the continuous, permanent, compulsory, universal and confidential recording of the occurrence and characteristics of vital events in a population', in accordance with the legal requirements of the country. In international best practice, it is certain that Civil Registration is the official recording of life events of citizens and non-citizens resident in a country. These events include, Live Births, Still Births, Deaths, Causes of Deaths, Adoptions, Marriages, Divorces, Nullities, Legitimation and Recognition through a Civil Registration and Vital Statistics System maintained in an automated Civil Register, linked to kinship, family ties and updated as life events occurring in a person's life.
The Civil Registration System establishes and accounts for the existence of a person under the law. Legal Identity is a Human Right enshrined in Article 6 of the Universal Declaration on Human Rights and several other International Human Rights and Humanitarian Law Instruments that guarantees the undeniable recognition of everyone before the law. Vital Statistics, is inextricably aligned with the Civil Registration System and the recording of life events and civil status of individuals in a country. The UN defines Vital Statistics as the collection, processing and analysis of vital events data drawn from reliable sources, such as the Civil Registry and Health Information Systems, for the purpose of disseminating the information in statistical form to guide public administration and good governance.
The recording and computerisation of these events allow for acquiring timely information of the size and characteristics of a country's population that is useful for socio-economic planning and informed decision-making processes. Governments and its Development Partners will be constrained to plan, monitor and evaluate programmes such as health interventions, education services, social protection, social security and other national development initiatives for lack of reliable and updated vital statistics on the population dynamics, valuable for reporting on global and national indices including maternal, infant and child mortality, fertility rates, crude birth and death rates as well as family formation and dissolution, social and demographic data on the population for programme interventions and equitable allocation of resources based on evidence and need.  The Civil Registration System generally is the ideal source for vital statistics as it provides accurate, complete, continuous and timely information on vital events, as they occur, limiting the use of projected estimates in population services. It is to create this linkage that the Government of Sierra Leone integrated Civil Registration and Vital Statistics as one stop shop System in Sierra Leone that has been recently and successfully assessed by the United Nations to be in line with the its Guidelines and International best practice.
CRVS is not a nouveaux phenomenon. It has only gained prominence in recent years due to the recognition of its importance in measuring progress in human development, good governance and accountable service delivery. As you may be aware, 15 of the SDGs and 24 SDG Targets and 14 Indicators can only be reliably measured if there is an effective and well-functioning CRVS System in place especially when SDG Target  16.9  specifically  requires  that  by  2030,  Governments  to provide legal  identity  for  all,  including  birth  registration.  Additional benefits of a well-functioning CRVS includes the provision of Proof of Identity, Age and Date of Birth, Place of Birth, Citizenship, Parentage, Programme eligibility and evidence of death for heirs to access insurance and administer inheritances; establish family relationships and inheritance rights; provide proof of age and establish rights based on age (e.g. school entry, driving privileges, immigration services, increased revenue generation through accountable tax administration, guarantees state security; assures right of access to services (e.g. schooling, healthcare), provides proof of marriage or divorce and the right to marry; and provides evidence of death.  It is also useful in the academic arena for demographic, social and health research.
In Sierra Leone, the National Civil Registration Act was passed by Parliament in 2016 following policy directives to merge, consolidate and integrate civil registration under the auspices of a single authority in line with UN Guidelines and International best practice. The NCRA was therefore established in 2016 with mandate to register and account for the existence and exit of all citizens and non-citizens resident in Sierra Leone and to link the registration of every individual to a unique, non- repeatable, non-duplicating and non -reusable National Identification Number (NIN). The Act further mandates the NCRA to 'provide easy access to the Civil Registration System to other Ministries, Departments and Agencies to enhance the standard of decision-making and public administration' as well as collect, compile, abstract and publish vital statistics on the population of Sierra Leone. We are currently digitizing and automating records of vital events on the population of Sierra Leone beginning with Births and Deaths records dating back to 1800s in order to ease record search, halt manipulation of personal data, contain identity fraud, replace paper-based record system with electronic system and importantly to ease sharing of data on the country's population for various use including healthcare, social security benefits, tax administration, immigration service, financial service and inclusion, access to driving license among others. With additional support from the Irish Aid, the UNDP and the EU, we have decentralised the digitization of past records to the four regions. We will continue to register and maintain record on vital events and their characteristics occurring in every one's life in Sierra Leone, provide an opportunity to confirm people's personal details and provide evidence of Identity both physical and electronic ID authentication means.
To enhance access to Civil Registration Services and benefits for our people, the NCRA in collaboration with the Ministry of Local Government and Rural Development with support from the Government of Sierra Leone and the EU, is at the advanced stage of decentralising Registration services to all Chiefdoms and Wards by establishing Permanent Registration Centres in Sierra Leone in line with its mandate. With support from Government of Sierra Leone and UNICEF, the NCRA is in the process of adopting the use of appropriate Technology to support Birth and Death Registration and a digital platform established to share Birth and Death Registration data with authorised public Institutions such as the Ministry of Health and Sanitation, Statistics Sierra Leone, UNICEF, WHO, UNFPA among others. To achieve these, the NCRA counts on the unreserved support of Government and its Development Partners to invest in automating the  System,  decentralising  registration  services to communities to enhance collection and transmission and sharing of data with public institutions and other interested Organisations as prescribed by law.

The theme for this year's Commemoration is 'Civil Registration and Vital Statistics: An Essential Service for Monitoring and Mitigating the Impact of Emergencies'. The COVID-19 pandemic has affected all sectors of governance, including CRVS, which is a public service. The NCRA has taken steps to complement Government's containment measures of COVID-19 through hand washing facilities, use of face masks and social distancing to protect its personnel and the public it serves.
On this year's theme, the relevance of CRVS has been made even more acute as Governments in Africa as well as other continents, continue to grapple with the realities of the pandemic that requires isolating, tracing and monitoring some sectors of the population as part of health surveillance to guide health intervention and service delivery. Some countries, such as those in Asia, Europe have utilised Civil or Population Registers for contact-tracing and isolation of contacts of positive cases easily without delay, which has proved helpful in disrupting its spread and increase in those countries. In Sierra Leone, the data the NCRA has on the population provided vital information on the 14th August 2017 mudslide and flood victims.
In emergencies, CRVS systems face the dilemma of having weak support to operate, yet is required to be relevant in crises such as COVID-19. The pandemic has exposed the vulnerability of the system as data is not collected in the usual face-to-face manner, which is not always possible under the new environment. There is therefore an urgent need to prioritise automating the systems so that data can be collected electronically including through mobile phones, when faced with a crisis. We call upon the NGOs, the UNCT and other Development Partners working in humanitarian aid and emergencies to consider supporting the digitization of the CRVS system in Sierra Leone most urgently to be able to live up to the expected role for providing reliable population data during emergencies to guide their intervention promptly.
With a robust and adequately resourced CRVS System in place, appropriate and timely national emergency, social protection service and emergency preparedness will be enhanced. While, Section 27 (2) (c) of the NCRA Act require the Authority to set up permanent address system to identify each and every citizen and resident in the country and in Section 34; to maintain personal files on the population with details of permanent and current address of citizens and non-citizen residents, it is important that support be given to the Authority to make these expectations real. There is an urgent need to support the CRVS System so that the NCRA is readily able to provide population data on demand, especially in crises and emergencies, when timely and accurate information is vital to saving lives and reaching those most in need in an accountable, transparent and precise manner. The upheavals in disasters and emergencies often leave people without documentation and proof of identity as they flee to safety. A well-functioning CRVS System can provide Government and Humanitarian Agencies with the necessary information to identify victims and those affected with prompt relief and assistance, thereby saving huge resources that can go towards other service delivery. The COVID 19 pandemic presents an even complex situation where face to face rapid assessment is hampered by restrictions and social distancing thus the indisputable need to support the CRVS System that maintains an updated data on a country's population.
Let me end by reiterating the importance of CRVS as an essential service in emergencies and public administration and therefore request State structures involved in emergencies, disaster management to include CRVS in strategies put in place to ensure business continuity during emergencies, including pandemics.
The NCRA appreciates the Government of Sierra Leone through the Office of  National  Security  for  recognising  its  CRVS  and  Identity Management System in a recently re-constituted Disaster Preparedness and Response structure as a Pillar Lead for Registration as a way of mainstreaming CRVS in emergencies in the country. We implore that disaster resilient civil registration systems that can continue to function under precarious circumstances be recognised, supported and maintained.
As always, on behalf of the Board of Authority, Management and Staff of the NCRA, I want to express our unreserved appreciation and gratitude to His Excellency, the President Brg. (Rtd.) Julius Maada Bio and the New Direction Government for the sustained support, political, financial and otherwise to have an effective and a well-functioning integrated CRVS and Identity Management System in Sierra Leone that meets international standards. Similarly, we wish to recognise with immense gratitude the support we continue  to receive from other MDAs' that include but not limited to the Ministries of Finance, Internal Affairs, Health and Sanitation, Local Government and Rural Development, Planning and Economic Development, Social Welfare, Gender and Children's Affairs, Justice, Information and Communications, Statistics Sierra Leone, National Social Security and Insurance Trust, National Revenue Authority, National Electoral Commission, Political Parties Registration Commission, Office of the Administrator and Registrar General, Immigration Department, Sierra Leone Road Safety Authority, other Development Partners namely, the European Union, Irish Aid, World Bank, UNDP, UNICEF, WHO, UNFPA, AfDB, Plan International, CARE International etc, the Media and Civil Society Organisations towards the CRVS and ID Management System in Sierra Leone. As an Authority, we are striving to establish and maintain a reliable and credible CRVS and Identity Management System that meets the expectation and need of Government, our Development Partners and the public as a whole that will be used for multiple purposes.
We will continue to appeal to our Development Partners to support Government and invest in CRVS which is the ideal and reliable source of data on a country's population. CRVS save cost incurred in the conduct of cyclic and episodic events as it is permanent, compulsory, continuous and universal hence the imperative need to invest in it mainly the strategies and activities outlined in the five years CRVS and ID Management Strategic Plan that was developed collectively with relevant stakeholders with guidance from UNCEA and other Development Partners.
Finally, as we commemorate the Third Africa CRVS Day today, 10th August 2020, let us keep our vision to make "Everyone visible in Africa", even in times of pandemics by providing uninterrupted service to 'Leave no one behind' to have "The Africa We Want."
Civil Registration is a Right and a Must!
I thank you for your attention.